This church was started entirely on faith in God. One of the stories that Elder Hinton fondly told was how she started the church "without a broom." As she was cleaning the church for its opening-day ceremony, a couple stopped by. They told her, "We saw you were starting a church, so we thought we would buy you a broom." It was a small beginning, yet the prelude to greater things through God's divine intervention in this ministry.
1960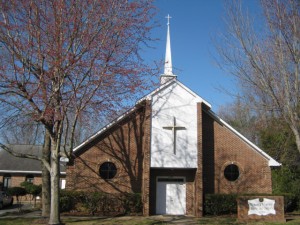 Lois Walker Hinton, a devout Christian and mother of seven began a prayer band. Its mission was to preach, teach, and instruct others in God's word, with an emphasis on spiritual conversion and growth. The prayer band met in various churches and private homes for worship, soon growing to more than 60 members.
1962
Lois Walker Hinton was licensed and ordained by the Providence Holy Church in Raleigh, and served as its Junior Pastor. As her prayer band continued to grow in number, Reverend Hinton was called to pioneer a church, so she left Providence and, on December 26, 1962, founded Mt. Pleasant Holy Church of God Inc. in accordance with all the legal requirements and codes of the State of North Carolina. Bishop R.L. Haigler of Unity Holy Church of God Inc. installed Reverend Hinton as pastor and was instrumental in orchestrating Mt. Pleasant's initial church structure and establishing its membership in the Unity Holy Churches of God Association. More than 40 people attended service that first Sunday in the small sanctuary, located at 1125 Austin Street. Twelve others joined that day.
1963
In June, the congregation moved to a larger location at 1456 Sawyer Road, a former nightclub with an outhouse-style toilet. Craftsmen and members helped up-fit the building for services. Many members lacked transportation, so Pastor Hinton purchased a 1946 Plymouth to take members to and from church, and for church business. Over the next three years, several members were called to minister, eventually leaving to pioneer churches of their own.
1966
In October, the church moved to an unfinished building at 1424 Sawyer Road, its current location. The church rented the building from Holy Churches on the Rock, a small organization with a string of churches stretching from Massachusetts to North Carolina. The building was designed to be a church, but the owner died before completing it. There were walls and a roof, but time and neglect had caused the structure to deteriorate. Again, through much labor and determination, church members and laborers up-fitted the building for worship services.
1967
In October, Mt. Pleasant joined the Holy Churches on the Rock organization.
1983
In June, a choir stand, kitchen, and dining room/fellowship hall were added to the church.
1985
The president and governing body of Holy Churches on the Rock approved the sale of the building to the Mt. Pleasant congregation.
1987
Additional land was purchased for future expansion.
1990
Founder Hinton and the membership desired to build a new edifice. After two years of building-fund projects and labor, the new sanctuary was completed.
1993
In November, the congregation proudly marched into the new facility and dedicated it to the Lord.
1994
Founder Hinton resigned as Pastor of Mt. Pleasant. Her son, Assistant Pastor and Evangelist Phillip A. Walker succeeded her. The Vision and Mission for the ministry under his leadership were redefined, according to God's direction.
1997
The name of the church was changed from Mt. Pleasant Holy Church of God to Mt. Pleasant Worship & Outreach Center to signify its future direction: to become a worldwide ministry whose shape will be that of a "Tree of Life" with three branches – Economic Empowerment, Spiritual Empowerment, and Relational Development.
1999
In February, Pastor Phillip Walker and the Mt. Pleasant congregation were able to get the 10 blocks around the church designated as a federal "Weed and Seed" site. The following September, Elder Vickie Walker was installed as Co-Pastor of the ministry. She also served as leader of the Worship Ministry, and formed a praise and worship ministry called Esteem. Under the Walkers' leadership, Mt. Pleasant's outreach efforts met success on several levels, including:
Acquiring and renovating a rundown apartment complex, renaming it "Shammah Winds" to reflect the hand of God in the community.
Creating a subsidiary, Rehobeth Outreach Ministries, for community development initiatives.
Creating Tree of Life Community Development Corporation to house outreach ministries that are not "worship specific," and to increase funding through grants.
Mt. Pleasant purchased two nearby houses, one of which was annexed for classroom space and additional land for parking.
2001
In March, a trailer was annexed and dedicated for a community outreach ministry – an interim step along the road to the Tree of Life Community Center, which will house social programs and ministries that reflect the three branches of Mt. Pleasant's vision.
2009
In November, Pastor Phillip Walker was confirmed to the office of Apostle.
Today
Mt. Pleasant Worship & Outreach Center has more than 200 active men, women, and children in membership and ministry.