Food for Thought,
by Minister Hugh Bradford
"And this is the testimony: God has given us eternal life, and this life is in his Son."  — 1 John 5:11
Prepare ye the way of the Lord.
Buckeyes Aren't Just For Ohioans,

by Leslie J. Ansley
The Ohio State vs. Michigan rivalry is known as the greatest rivalry in sports. In honor of my alma mater's win Saturday, here's a recipe for Buckeyes — a wildly popular no-bake treat served up by fellow Ohioans on game days and especially at holiday gatherings.
What exactly is a buckeye? It's a nut – a large, shiny, dark brown nut with a light tan patch that comes from the official state tree of Ohio. The name has to do with its appearance, which is said to resemble the eye of a male deer (a buck). When I was a kid, there was a massive buckeye tree down the street, across from my friend Stephanie's house. In late summer, Steph and I would sometimes make buckeye necklaces by pushing a large needle through the center of the nuts and stringing them together.  The trick was to get the nuts before they shed their hulls, when they were still a little soft. In September when the leaves of the buckeye tree turned golden yellow, the hulls would open and the rock-hard nuts all fell to the ground. If you wanted to make a necklace then, you'd need a drill.
The buckeye nut itself is slightly poisonous, but these candy buckeyes are made of peanut butter and chocolate. Enjoy!
BUCKEYES
Ingredients
1 ½ cups peanut butter
1 cup butter, softened
½ teaspoon vanilla
6 cups powdered sugar
4 cups chocolate chips
Directions
Mix peanut butter, butter, vanilla, and powdered sugar with mixer until well blended.
Roll dough into balls and place on a cookie sheet lined with wax paper. (If you have mini-muffin tins, just place the peanut butter balls into those, no wax paper needed.)
Stick a toothpick into each ball, then place the cookie sheets/muffin tins into the freezer until the balls are frozen.
Melt chocolate chips over double boiler. If you don't have a double boiler, put the chips in a microwavable bowl and nuke about 2 minutes or until the chocolate is melted and smooth when stirred.
Holding each by its toothpick, dip each ball into the chocolate, than place back into the freezer until they're set.
Colorful Button Ornaments, by Donna Wright
Here is a Christmas ornament that you can make with a foam ball, buttons, ribbon and white head pins.
Use colored buttons that match your décor. Have patience and start attaching each button with one to two white-head straight pins.  If you love DIY projects, then this one is for you.  If you don't have patience for this type of project, move on and find something that works for you.
Most or all of these items can be found at Michaels arts and crafts stores.
A grouping of these ornaments will look great on a mantle, or you can add a small ribbon for a loop and hang on your tree.  No gluing required, simply create this using the white head pins.
Pleasant Memories
MY FAVORITE HOLIDAY MEMORY as a child growing up was with my mom, who was a single parent.
At Christmastime, all my aunts and uncles, cousins and grandchildren were required to be at my grandparents' house on Christmas Day. There were a lot of us. At that time there were 10 aunts and uncles and 36 grandchildren.
We never made a big deal about giving gifts, we were just glad to see each other. However, my grandmother, who we called Mamma, always gave everyone a Christmas bag. It was a brown paper bag with fruit, nuts and candy inside. She even put everyone's name on their bag. Well, the names were not always correct on the bags, but we got the message that she was trying to convey.
Always cherish the memories of yesterday! —  Co-Pastor Vickie Walker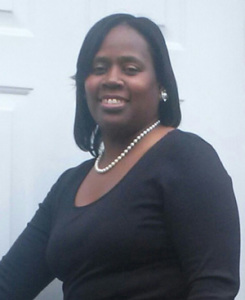 CHRISTMAS IN THE RICHARDSON HOUSEHOLD was incredible. My mom raised seven children alone. I am the youngest child and Christmas was always awesome in our home. As Christmas approached, I would get overly excited because it was my favorite day of the year. I remember on Christmas Eve not being able to wait until the next day. There was so much anticipation about whatever gifts we were going to receive that it was hard for us to fall asleep.
We were very excited as we heard and saw our mom prepare for Christmas Day.  My sisters, two of my brothers and I slept in the same room. There was a lot of laughter in the room and mom would say, "If you don't hurry up and go to sleep, Santa is going to put pepper in your eyes." We would always try to sneak a peek at what was under the tree to try to figure out which gift was ours. Somehow we always got caught.
We did not have a lot of presents under the tree, but we were so excited to get a brown paper bag filled with oranges, apples, tangerines, walnuts and Brazil nuts. We would also get several pieces of hard candy stuck together with everything else that was in the bag. These bags of goodies were on the mantel in our living room. The look on our faces was as if that was the best thing we could have gotten.
A Christmas gift that I once received was a Walk-With-Me Baby Doll. She wore a pink dress, white shoes, and white socks. She had shiny blonde hair and gray eyes. You could take her by the hand and she would walk beside you. Her eyes would shut as if she was asleep when she was laid down.
We would all go into the kitchen after receiving our gifts. We would wait for mom to finish with the cake batter and icing bowls to see who would get to lick and clean the bowls. Most of the time I got the bowl all to myself since I was the youngest. However, I shared it with my siblings, one lick at a time.
We did not have much, however we appreciated what we received. We treated our toys as if they were our last Christmas gifts. We did not know what the next Christmas would bring. — Deaconess Carol Reed
Do you have a favorite holiday memory? Share it with us so we can feature it in next week's Pleasant Holidays. Send via email to leslie.ansley@gmail.com by Thursday, December 4. Thank you!